Apple Watch Series 8 Teardown
Unlocking the Power of Innovation
In the ever-evolving world of wearable technology, Apple has consistently pushed the boundaries of innovation. Their latest offering, the Apple Watch Series 8 A2771, is no exception. Packed with cutting-edge features and impressive hardware, this watch promises to redefine what we can expect from a smartwatch.
Platform Login Start Your Free Trial
Power Under the Hood
At the heart of the Apple Watch Series 8 A2771 lies the formidable Apple APL1W86 64-bit dual-core application processor. This powerful processor is the brains behind the watch's lightning-fast performance and seamless user experience. Paired with 1 GB of Mobile LPDDR4X SDRAM and 32 GB of 3D NAND flash memory, the Series 8 can handle a myriad of tasks with ease.
The collaboration with SK Hynix has resulted in a multichip memory setup embedded in a BGA-POP package. This combination of memory and processing power ensures smooth multitasking, quick app launches, and efficient data storage, even for the most demanding users.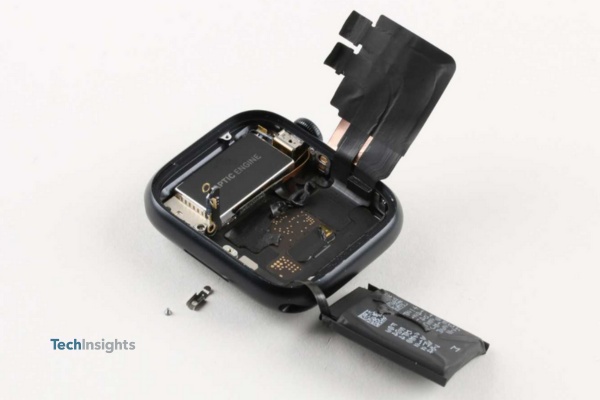 Connectivity at Its Best
When it comes to staying connected, the Series 8 doesn't disappoint. Apple's own integrated circuits handle WiFi and Bluetooth, guaranteeing fast and reliable connections to your other devices. Additionally, the Series 8 boasts a U1 UWB Transceiver provided by USI, enhancing its capabilities for precise location tracking and secure data sharing.
Inside the watch, you'll also find a 60 GHz RF Transceiver with an antenna for wireless data transfer. This feature opens up exciting possibilities for future applications and ensures the watch remains at the forefront of technological advancement.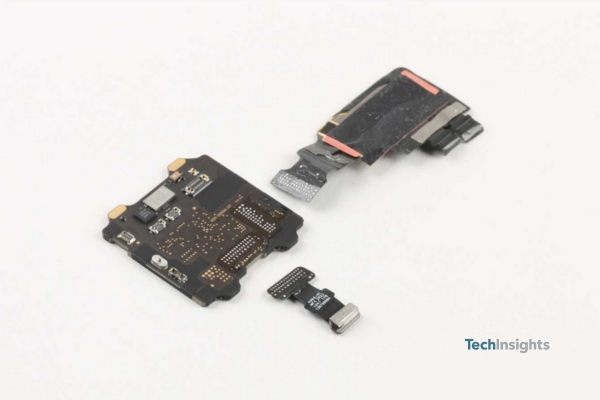 Design Evolution
The Apple Watch Series 8 A2771 follows in the footsteps of its predecessor, the Series 7, with a similar design that exudes elegance and functionality. It's available in a 45 mm version that fits comfortably on your wrist, offering a perfect balance of style and comfort.
Both the Series 7 and Series 8 feature OLED displays that deliver crisp visuals, making it easy to read notifications, check your health stats, or enjoy your favorite watch faces. These watches are built to withstand the elements, being water and dust resistant (IP6X rated), so you can wear them with confidence during your workouts or outdoor adventures.
Performance Upgrades
What truly sets the Series 8 apart from its predecessor is the introduction of the S8 dual-core processor. This powerhouse not only enhances overall performance but also enables exciting new features and applications that were previously beyond the reach of smartwatches. With the addition of the NFC IC - SN300V by NXP, contactless payments and seamless connectivity with other devices are more convenient than ever.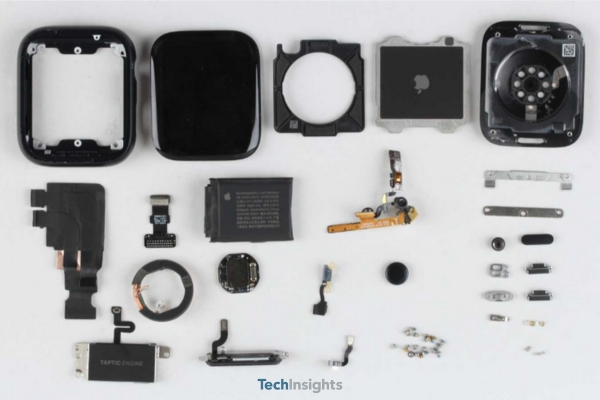 In conclusion, the Apple Watch Series 8 A2771 is a testament to Apple's unwavering commitment to innovation and excellence. With its powerful processor, impressive memory capacity, and advanced connectivity options, it promises to be a game-changer in the world of smartwatches. Whether you're a fitness enthusiast, a tech aficionado, or simply someone looking to streamline their daily life, the Series 8 has something to offer. Its sleek design and robust feature set make it a worthy addition to the Apple Watch family, setting a new standard for what we expect from wearable technology.
The authoritative information platform to the semiconductor industry.
Discover why TechInsights stands as the semiconductor industry's most trusted source for actionable, in-depth intelligence.